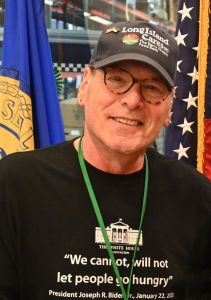 Paule Pachter is Chief Executive Officer of Long Island Cares, which provides nutritional food and support services for an Island-wide network of more than 374 community-based member agencies.
Mr. Pachter, a licensed social worker, is also on the faculty of St. Joseph's College in Patchogue, where he teaches a second-year graduate course on executive leadership.
In 2016, he was named one of Long Island's Top CEO's by Long Island Business News. The publication also inducted Mr. Pachter into the "Long Island Business Hall of Fame" in 2019. In 2020, he received the Town of Hempstead's "Make a Difference Medal" for his leadership work in responding to COVID-19.
In recognition of Long Island Cares's innovative strategies for addressing the root causes of hunger and food insecurity, Mr. Pachter was awarded the prestigious Hunger's Hope Award in 2011 from Feeding America, the country's largest domestic hunger-relief organization
A resident of North Bellmore, Paule Pachter graduated from the Adelphi University School of Social Work and has held several positions within Long Island's human services community, including Deputy Commissioner of Nassau County's Department of Mental Health.