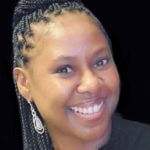 Mary Rogers joined Brookhaven National Laboratory's Business Services Directorate in February 2012 as an Assistant Business Specialist. Since then, she has assumed roles with increasing responsibility and impact, in each identifying, developing and implementing ways to streamline work flows and reduce costs for the Laboratory.
As an Associate Business Specialist from 2014 to 2019, she supported business operations for the Human Resources Directorate, Information Technology Division, Business Services Directorate, Fiscal Services Division, Procurement & Property Management Division, and for the Prime Contract Deliverables in the Office of the Lab's Chief Financial Officer.
In 2019, she became a Buyer in the Procurement & Property Management Division, working with departments across the Lab to procure commodities and services critical to supporting the Lab's mission.
And in 2020, Mary was promoted to the role of Small Business Liaison Officer in the Procurement & Property Management Division, where she is working to create and increase procurement opportunities for small business in socioeconomic categories such as Veteran-Owned Small Businesses, Women-Owned Small Businesses, and Minority-Owned Small Businesses, as well as others. This role requires significant outreach in the local community, NY Metropolitan Region, and beyond.
Mary is the current president of the Brookhaven National Laboratory African American Advancement Group (AAAG), an officially-recognized and Lab-supported Employee Resource Group (ERG) that seeks to increase visibility and awareness of the Black/African-American, culture and contributions at the Lab, all in supports the Lab's diversity, equity, and inclusion goals. This is accomplished through member programs and events held throughout the year, including a STEM Scholarship Program, developed to build a bridge between the community and the Lab to foster strong connections, professional development opportunities, and potential recruitment of future STEM professionals.
In 2020, Mary was recognized for her work on behalf of the AAAG and all the Lab's ERGs with the Pinnacle Award for Diversity, Equity & Inclusion. This award recognizes a key contributor who demonstrates leadership qualities that exemplify the ideals of inclusion, diversity, and equity into practical action. This award recognizes individuals who show a personal passion for diversity, equity, and inclusion, and who have championed the Lab's commitment to those principles.
Mary is in the process of earning a bachelor's degree in Business Administration from Columbia Southern University. She brings with her numerous years of experience in customer service and administrative fields.