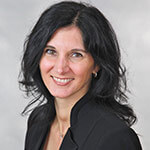 For the past eleven years, Carol A. Allen has helped improve operational performance and increase growth as the President & CEO of People's Alliance Federal Credit Union (PAFCU). In her 30-year career at PAFCU, she has held the titles of Accounting Manager, Vice President of Finance, Chief Financial Officer, and Executive Vice President/COO.  Along with full operational responsibility of the credit union, Ms. Allen has handled the financial consolidations resulting from mergers, interfaces with the financial examiners and works closely with the executive staff on product development.  With over $340 million in total assets, People's Alliance offers financial services to the employees of over 400 companies and several select geographical areas.
In 2004, Carol was honored as one of Long Island Business News' Top 40 Under 40, a tribute to Long Island's best and brightest business people, and in 2014 was recognized as an Outstanding CEO by Long Island Business News, celebrating Long Island's top executives and signature firms and organizations.  She currently serves on the Board of Directors for the Hauppauge Industrial Association- LI serving as First Vice President, formerly serving as Treasurer and Secretary. She is a New York Credit Union Foundation Trustee and serves on the Federal Reserve Bank of New York Community Depository Institutions Advisory Council.
Carol is also on the Northport High School Academy of Finance Advisory Board and serves as the Northport Yacht Club Financial Secretary. She previously served on the credit union advisory board for Enterprise Car Sales.
A Long Island native, Carol earned a bachelor's degree in accounting from Hofstra University and a master's degree in finance from Adelphi University. She is happily married and has three sons.