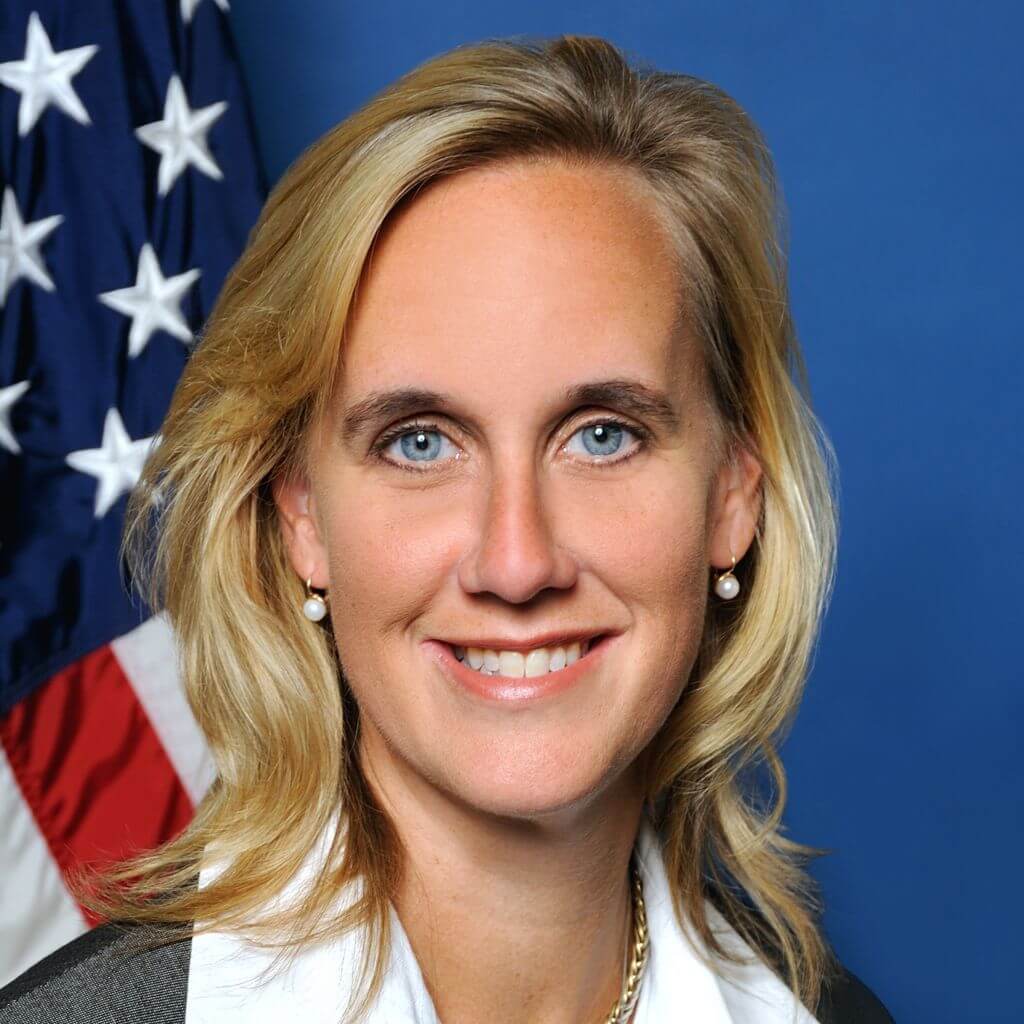 Anne D. Shybunko-Moore is CEO and Owner of GSE Dynamics Inc., a Woman Owned Small Business,
and a U.S. Defense Manufacturer. GSE was founded in 1971 and has 2 manufacturing facilities located on
Long Island, NY. GSE specializes in providing complex structural assemblies direct to the United States
Air Force, Navy and Army, as well as Major Aerospace Primes. Anne joined GSE in 2001, and has been
strategically growing the company and expanding its capabilities.
The Defense Logistics Agency (DLA) awarded her company the prestigious Outstanding Readiness
Support award for Woman Owned Business. In 2019 and 2020, GSE Dynamics was recognized as a Top
Shop for the Composites Industry by Composites World Magazine. GSE continues to be a top supplier to
DLA in terms of business volume for Small Businesses and for Woman Owned Small Businesses.
Nationally, Anne is a member of the Supplier Management Council of the Aerospace Industries
Association (AIA) in which she represents small businesses in the Aerospace and Defense supply chain.
She was also elected to serve on the Board of Governors for 2021, the leading governing body of the AIA
comprised of senior representatives of member companies. And, from 2014-2017, Anne was an
appointed member of The National Women's Business Council (NWBC), a non-partisan federal advisory
council created to serve as an independent source of advice and counsel to the President, Congress, and
the U.S. Small Business Administration on economic issues of importance to women business owners.
Anne also lends her leadership strengths to various councils. On the State level, Anne is an appointed
member of Governor Cuomo's Long Island Regional Economic Development Council, and served on his
State Workforce Investment Board from 2014-2018. Anne is the Founder and Chair of IgniteLI,
Manufacturing Consortium of Long Island, an industry driven organization to promote manufacturing
with a regional strategic plan for job creation and support for business. In 2017, Anne partnered with The
Suffolk County Legislature to form a Long Island Manufacturing Taskforce to further support and address
the economic impact of manufacturing in our region. And, in 2020, Anne joined the Board of the Cradle
of Aviation Museum and The DeMatteis School of Engineering Advisory Board at Hofstra University.
Her main advocacy is to promote manufacturing and the need for workforce training to help companies
grow.
As a local leader on Long Island, Anne has earned the title of Long Island's Top 50 Women twice by
Long Island Business News and the title of one of Long Island's 40 Rising Stars Under the age of 40.
Anne served as President of Long Island's National Association of Women Business Owners (NAWBO),
and was twice awarded the Top Woman Business Owner award for NAWBO/LI. Long Island Women's
Agenda named her as the Business Advocate of the year, recognized for efforts in the small business
arena. Enterprising Magazine honored Anne as Enterprising Woman of the Year for her business and
community accomplishments.
Anne is married to Jamie Moore, President of Industry Grants, a grant writing and economic development
company serving Long Island businesses. Jamie and Anne support each other in their careers and home
life as they raise their four sons. Anne focuses on the importance of family and career balance, and serves
as an example that women can be successful at both.