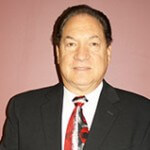 Allan A. Lippolis is President and CEO of Superior Washer & Gasket Corporation. Superior Washer is now a family-owned business.  He, with his two sons, oversee the day-to-day operations of both facilities and he continues to improve procedures and operations.
Started in 1972, Superior has two manufacturing facilities, one in Hauppauge and the other in Rock Hill, South Carolina. Allan did most of his growing up in Valley Stream before attending college at SUNY Farmingdale. At 25, he and three other men decided the time was right to start their own venture. Together the four men began their own production plant in 3,600 sq. ft. of space in Babylon, New York. In 1982, they moved into their own 30,000 sq. ft. facility in Hauppauge, New York which has since expanded to 49,000 sq. ft.
In 1990, Superior purchased 6 acres of property in the Airport Industrial Park in Rock Hill, South Carolina. A 30,000 sq. ft. facility was built and since expanded to 60,000 sq. ft. With two buildings totaling 105,000 sq. ft., over 130 power presses, modern tooling departments and over 110 employees, Superior is the largest stocking manufacturer of special size washers, shims and small stampings in the United States. Superior Washer and Gasket has been an active part of the HIA when it moved into the Hauppauge facility in 1982.
The year of 2022 marks our 50th anniversary which were excited to celebrate. Allan Lippolis has served on the HIA board for many years and is now a lifetime board member. He was instrumental in developing the security patrol in the industrial park and currently is part of the Small Business Task Force for the HIA. He lives here on Long Island with his wife of over 4o years, two sons and three grandchildren. In his spare time he relaxes playing golf